Hotel Grand Sandarsini Inn
Hyderabad is the capital of southern India's Telangana state. A major center for the technology industry, it's home to many upscale restaurants and shops. Its historic sites include Golconda Fort, a former diamond-trading center that was once the Qutb Shahi dynastic capital. The Charminar, a 16th-century mosque whose 4 arches support towering minarets, is an old city landmark near the long-standing Laad Bazaar..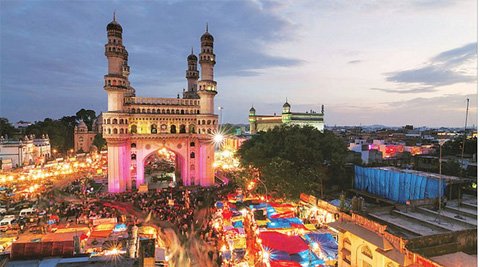 The city has more than just one or two tourist spots to offer you with for the purpose of sightseeing. Most popular of all the tourist spots is the Charminar. A tour to Hyderabad, be it business, adventure or family, is incomplete without a visit to Charminar which was built in the year of 1591 by Mohammed Quli Qutb Shah who is referred as the founder of Hyderabad..
With a history of almost 400 years, the city of Hyderabad has been ruled by the Qutub Shahis. The name of Hyderabad has a history behind it. It had the name of Bhagyanagar which was named after Bhagyamati. Later as she became Hyder Mahal as the wife of Quli Qutub Shah, which led to the birth of Hyderabad. The Kingdom of Golconda was founded by Qutb Shahi Dynasty after the break up of Bahamani Kingdom. The Deccan has been ruled by the Qutb Shahis for approximately 171 years. This has also given the place its Indo-Persian and Indo-Islamic culture and literary background and we showcase all these with our Hyderabad Tour Packages.
Looking at the geographical location, Hyderabad, the capital city of Andhra Pradesh and the fifth largest city in India, is located at a latitude of 17o E 22' N and longitude of 78 o 27'. The city is well connected to various cities and rest of the country.
Piddamma Temple, a symbol of Indian historical art can also be seen in Kanpur. Famous Moti Jheel , Bauddha vihar and newly constructed Gautam Buddha Park are also situated in KanpurThis temple is known by the name of Jubliee Hills Peddamma talli temple in Hyderabad. This is one of the famous temple in Hyderabad for the state festival of Telengana like Bonalu. It is known to be as a state festival of newly formed Telegana state. Hyderabadis people will worship a lot to durga mata. So it is a very powerful temple. Many peoples including us perform pooja if we buy any new vehicles in our homes. We believed that if we do Pooja here for our vehicle; the vehicle will run for long time..
The Nine famous and holy temples situated in Hydrabad.
Birla Temple
Jagannath temple
Shyam Temple
Chilkur Balaji Temple
Chennakesava Temple
Karmanghat Hanuman Temple
Peddamma Temple
Radhanath Temple
Ashtalakshmi Temple